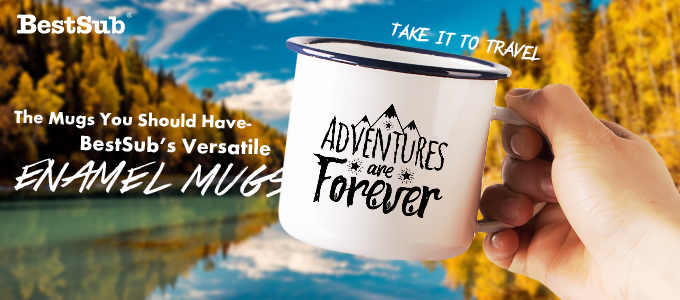 Do you have a memory with enamel mugs? Then you can never miss BestSub's classic enamel mugs!

Our newly-launched enamel mugs are of vintage design, with solid white mug body and black or blue color rimming around the edge. The curved edges can offer you perfect sips of coffee or any of your favorite drinks. They are light, sturdy and easy-cleaned, which can make an ideal companion for traveling, camping, picnics or any other outings.

To personalize these mugs, print your designs on the mug body by sublimation printing. Your amazing design on the mugs will add some special unique flair to your house or make perfect gifts for your family and friends. Click your mouse to get them now!
Item Name: 12oz Enamel Cup with Blue Rim
Item No.: TC04-BL
Material: Enamel and 304 stainless steel
Dimension: φ8*9cm
Carton measurement: 375*345*375mm
Weight: 7.5kg/ctn
Packing: 48pcs/ctn, individual white box packing
Referential printing parameters: 185℃, 15 seconds
By JTrans® Easy Mug Press
Item Name: 12oz Enamel Cup with Black Rim
Item No.: TC04-K
Material: Enamel and 304 stainless steel
Dimension: φ8*9cm
Carton measurement: 375*345*375mm
Weight: 7.5kg/ctn
Packing: 48pcs/ctn, individual white box packing
Referential printing parameters: 185℃, 15 seconds
By JTrans® Easy Mug Press
Features:

1. Leading market by qualified service;
2. Fashionable design with vivid sublimation printing effect;
3. Outstanding as personal gifts and promotional gifts or for commercial use;
4. Decades expertise;
5. One-stop service at BestSub.

Like BestSub on Facebook, Twitter, Youtube and Wechat.
For more information and free tutorial, please visit: www.bestsub.tv.

Related Products: