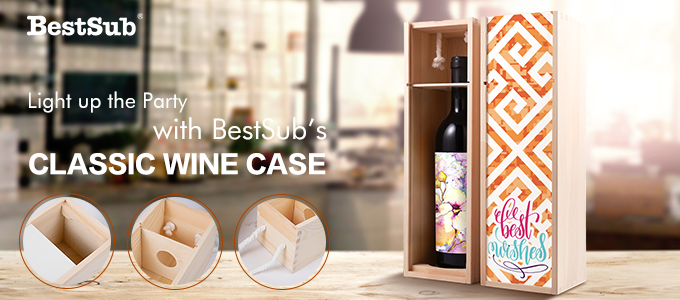 What do you need for an amazing party? Family and friends, delicious food and drinks, and BestSub's personalized wine case! Come and check it out!

Our wine case is made of sturdy natural beech wood. Every case has beautiful and unique wooden grain. With the string handle, it can be easily carried. To personalize this wine case, the sliding lid can be imprinted with your design vividly by sublimation printing. With the excellent printing effect, this wine case will be a fantastic wedding gift for your family and friends or a big surprise to light up a family dinner party.

Why don't you get this amazing personalized wine case now?
Item Name: Natural Wooden Wine Case
Item No.: MJH03
Material: Beech wood
Size: 10.5*10.5*35cm
Printing Area: 10*10*32cm
Referential printing parameters: 190℃, 110 seconds
By JTrans® Mate Press
Features:

1. Leading market by qualified service;
2. Fashionable design with vivid sublimation printing effect;
3. Outstanding as personal gifts and promotional gifts or for commercial use;
4. Decades expertise;
5. One-stop service at BestSub.

Like BestSub on Facebook, Twitter, Youtube and Wechat.
For more information and free tutorial, please visit: www.bestsub.tv.