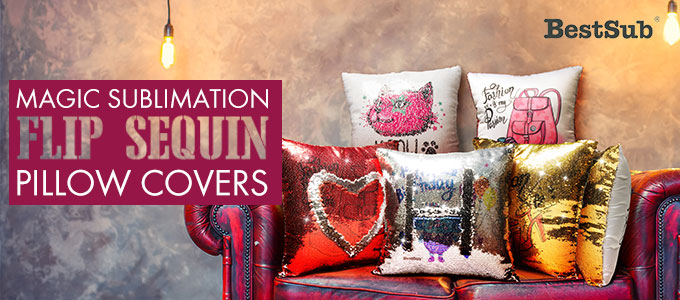 Are you looking for something cool to highlight your individuality and revitalize your living room? You can never miss the newly-launched magic sublimation flip sequin pillow covers from BestSub.

The pillow covers are comprised of 2 tone sparkly sequins perfectly overlapping each other on the face, and the back side of soft polyester fabrics. The glittering sequins will bring lots of vitality to your living room and give it a brand new cool look.

The sequin pillow covers are magic, with both the sequin sides and the polyester sides to be imprinted with images you like by sublimation printing. What's more, when you slide your fingers across the sequins, the images will be changed, and the sequins will be flipped to give another tone. You can create your designs of letters, monograms, or shapes on the images simply with a slide of fingers. And when you slide your hand over the sequins again in the opposite direction, your design will be erased and the imprinted images are back. You can never get enough of this magic. Just click your mouse and get them now!
Item Name: Flip Sequin Pillow Cover (Gold w/ Silver)
Item No.: BZLP4040G
Material: Sequin fabric and polyester
Color: Sequin fabric of gold and silver, white polyester
Size: 40*40cm
Referential printing parameters: 180℃, 120S
By JTrans® Mate Press
Item Name: Flip Sequin Pillow Cover (Red w/ Silver)
Item No.: BZLP4040R
Material: Sequin fabric and polyester
Color: Sequin fabric of red and silver, white polyester
Size: 40*40cm
Referential printing parameters: 180℃, 120S
By JTrans® Mate Press
Item Name: Flip Sequin Pillow Cover (White w/ Silver)
Item No.: BZLP4040W
Material: Sequin fabric and polyester
Color: Sequin fabric of white and silver, white polyester
Size: 40*40cm
Referential printing parameters: 180℃, 120S
By JTrans® Mate Press
Features:

1. Leading market by qualified service;
2. Fashionable design with vivid sublimation printing effect;
3. Outstanding as personal gifts and promotional gifts or for commercial use;
4. Decades expertise;
5. One-stop service at BestSub.

Like BestSub on Facebook, Twitter, Youtube and Wechat.
For more information and free tutorial, please visit: www.bestsub.tv.

Related Products: