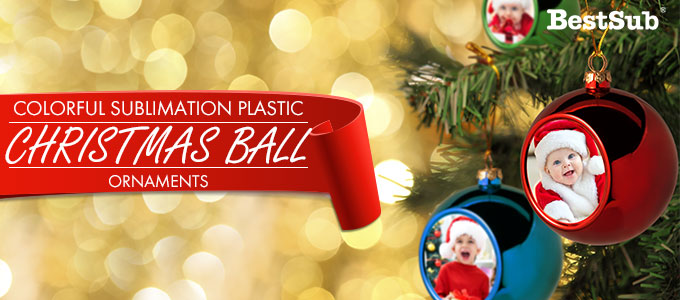 Christmas is coming! Have you decorated your Christmas tree to welcome its coming? Come and check the Christmas ball ornaments from BestSub. They are the must-haves for your Christmas.

Our Christmas balls come with six colors such as red, green, and gold, all of which can perfectly fit in the Christmas atmosphere in your house. Made of electroplating plastic, the balls can beautify your Christmas tree with dazzling luster. Also, each ball is with a pre-looped string and ready to hang on your tree.

To make your Christmas tree lovelier, you can imprint the Christmas balls with your family photos by sublimation printing. With the lovely photos on it, it will be the most beautiful tree that carries all those precious memories of your family. Click your mouse and bring a lovely Christmas home.
Item Name: 8cm Plastic Christmas Ball Ornament (Rose red)
Item No.: XMB8-RS
Material: Plastic
Size: 80*90mm
Printing area: φ50mm
Weight: 33g
Insert Item No.: JP50-P
Referential printing parameters: 180℃, 45 seconds
By JTrans® Mate Press
Item Name: 8cm Plastic Christmas Ball Ornament (Light Blue)
Item No.: XMB8-LB
Material: Plastic
Size: 80*90mm
Printing area: φ50mm
Weight: 33g
Insert Item No.: JP50-P
Referential printing parameters: 180℃, 45 seconds
By JTrans® Mate Press
Item Name: 8cm Plastic Christmas Ball Ornament (Green)
Item No.: XMB8-GR
Material: Plastic
Size: 80*90mm
Printing area: φ50mm
Weight: 33g
Insert Item No.: JP50-P
Referential printing parameters: 180℃, 45 seconds
By JTrans® Mate Press
Item Name: 8cm Plastic Christmas Ball Ornament (Gold)
Item No.: XMB8-G
Material: Plastic
Size: 80*90mm
Printing area: φ50mm
Weight: 33g
Insert Item No.: JP50-P
Referential printing parameters: 180℃, 45 seconds
By JTrans® Mate Press
Item Name: 8cm Plastic Christmas Ball Ornament (Silver)
Item No.: XMB8-S
Material: Plastic
Size: 80*90mm
Printing area: φ50mm
Weight: 33g
Insert Item No.: JP50-P
Referential printing parameters: 180℃, 45 seconds
By JTrans® Mate Press
Item Name: 8cm Plastic Christmas Ball Ornament (Red)
Item No.: XMB8-R
Material: Plastic
Size: 80*90mm
Printing area: φ50mm
Weight: 33g
Insert Item No.: JP50-P
Referential printing parameters: 180℃, 45 seconds
By JTrans® Mate Press
Item Name: 6cm Plastic Christmas Ball Ornament (Light blue)
Item No.: XMB6-LB
Material: Plastic
Size: 60*70mm
Printing area: φ34mm
Weight: 14g
Insert Item No.: MYLK40-P
Referential printing parameters: 180℃, 45 seconds
By JTrans® Mate Press
Item Name: 6cm Plastic Christmas Ball Ornament (Silver)
Item No.: XMB6-S
Material: Plastic
Size: 60*70mm
Printing area: φ34mm Weight: 14g
Insert Item No.: MYLK40-P
Referential printing parameters: 180℃, 45 seconds
By JTrans® Mate Press
Item Name: 6cm Plastic Christmas Ball Ornament (Gold)
Item No.: XMB6-G
Material: Plastic
Size: 60*70mm
Printing area: φ34mm
Weight: 14g
Insert Item No.: MYLK40-P
Referential printing parameters: 180℃, 45 seconds
By JTrans® Mate Press
Item Name: 6cm Plastic Christmas Ball Ornament (Green)
Item No.: XMB6-GR
Material: Plastic
Size: 60*70mm
Printing area: φ34mm
Weight: 14g
Insert Item No.: MYLK40-P
Referential printing parameters: 180℃, 45 seconds
By JTrans® Mate Press
Item Name: 6cm Plastic Christmas Ball Ornament (Red)
Item No.: XMB6-R
Material: Plastic
Size: 60*70mm
Printing area: φ34mm
Weight: 14g
Insert Item No.: MYLK40-P
Referential printing parameters: 180℃, 45 seconds By JTrans® Mate Press
Item Name: 6cm Plastic Christmas Ball Ornament (Rose red)
Item No.: XMB6-RS
Material: Plastic
Size: 60*70mm Printing area: φ34mm
Weight: 14g
Insert Item No.: MYLK40-P
Referential printing parameters: 180℃, 45 seconds By JTrans® Mate Press
Features:

1. Leading market by qualified service;
2. Fashionable design with vivid sublimation printing effect;
3. Outstanding as personal gifts and promotional gifts or for commercial use;
4. Decades expertise;
5. One-stop service at BestSub.

Like BestSub on Facebook, Twitter, Youtube and Wechat.
For more information and free tutorial, please visit: www.bestsub.tv.

Related Products: