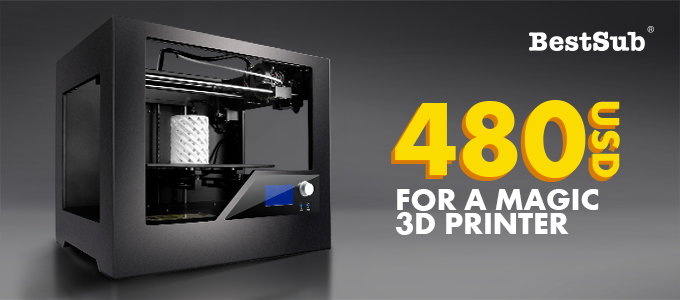 That is correct! To be the best DIY printing solution provider, BestSub paves your way to the new printing era with our magic 3D printer, which is on sale at present. With only USD480.00, you can own the amazing printer. Cease when sold out. Order it now, don't lose the chance!

This user-friendly 3D printer will convince you at the first sight with its elegant profile, clear LCD display and large size working table. You are free to print any beautiful models simply by designing on PC or downloading from other resources. To make it a booster of your business, call BestSub now.


Item Name: 3D Printer (26*17*16cm)
Item No.: BPZ603
Voltage: 110V / 220V
Power: 240W
Printing material: ABS, PLA
Base board temperature: 55℃
Printing speed: 20-300mm/S
Operating system: Windows, Lunis, Mac
Software: Cura
Working temperature: 10-30℃
Working humidity: 20-50%
Contains:



1*Complete machine
1*Tool kit
SD card (G code for testing contained)
Trial filament*3m
1*M8*10mm wrench / 5mm hexagon wrench
1*Cutting nippers
1*USB line
1*3mm / 2.5mm / 2mm / 1.5mm hexagon wrench
1*Cradle + M6*10, screw*4, nut*4, shim*4
1*CD
Power line

Features:
1. User-friendly design;
2. Power efficient;
3. Decades expertise;
4. One-stop service at BestSub.

Like BestSub on Facebook, Twitter, Youtube and Wechat.
For more information and free tutorial, please visit: www.bestsub.tv.