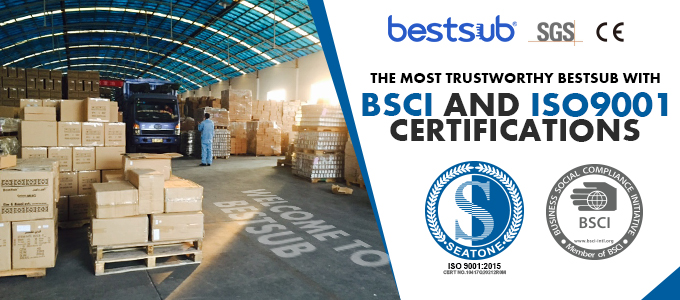 In April 2017, BestSub have successfully passed the factory audits conducted by BSCI, the Business Social Compliance Initiative, and certification bodies of ISO, the International Organization for Standardization, and received BSCI and ISO9001 certifications.

BSCI supports companies to contribute to social compliance and improvements within the factories, and supervise them meeting the international labor standards protecting workers' rights, while ISO develops standards of world-class specifications for products, services and systems, to ensure quality, safety and efficiency, and advocates factories to meet the standards.

With BSCI and ISO9001 certifications from this two leading organizations of factory supervision, we will continue to establish a factory that ensures the rights, safety and welfare of labors, the positive work environment, the complete fire-extinguishing system and so on; we will continuously produce excellent products of first-class quality, and provide the most professional services and technology supports to meet every customer's expectations as before. Also, our products is with SGS certificate and CE mark, which are the truly great products you can really trust and purchase. Choose BestSub, choose the best.